Latest News
Thank you very much to all authors and delegates for making IWAENC2018 a great success!

It is our pleasure to announce that the next workshop, IWAENC2020, will be held in Bamberg, Germany, from August 31 to September 3, 2020.
Walter Kellermann (University Erlangen-Nürnberg) will serve as the General Chair.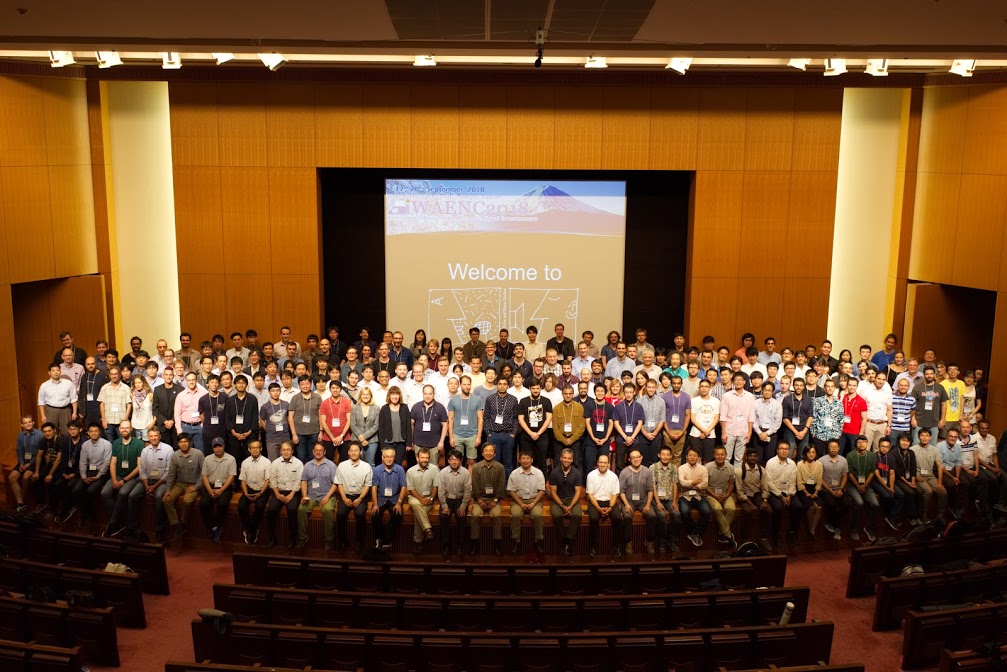 Download the picture
Welcome
The 16th International Workshop on Acoustic Signal Enhancement (IWAENC) will be held at Hitotsubashi Hall in Tokyo, Japan, on September 17 – 20, 2018. IWAENC was established in 1993, originally as the International Workshop on Acoustic Echo and Noise Control (this is how the abbreviation IWAENC came into use). It is the leading workshop in the signal processing community addressing theoretical and technical issues related to acoustic and speech signal acquisition and processing. The four-day program consists of oral and poster presentations, keynote talks, and demonstrations.
We look forward to welcoming you to IWAENC 2018 in Tokyo, Japan.
Hiroshi Saruwatari, Shoji Makino
The IWAENC 2018 Organizing Committee
Topics
Acoustic echo control
Noise reduction
Microphone arrays
Source localization
Source separation
Dereverberation
Active noise control
Multirate systems
Robot audition
Auditory scene analysis and classification
Acoustic environment simulation
Adaptive filtering algorithms and structures
Binaural signal processing
Speech and audio databases
Speech intelligibility enhancement
Quality assessment
New and emerging topics in speech and audio processing
Important Dates
Special session proposals:
Feb. 28, 2018
Notification of accepted proposals:
Mar. 14, 2018
Submission of [regular / special session] papers:
May 20, 2018
April 27, 2018
April 20, 2018
Submission of demonstrator description:
May 20, 2018
April 27, 2018
April 20, 2018
Notification of paper acceptance:
July 9, 2018
July 6, 2018
June 22, 2018
Submission of camera-ready papers:
July 23, 2018
July 20, 2018
Early registration deadline:
July 23, 2018
July 20, 2018